We are excited to announce the release of a new line of Benjamin Banneker Clocks celebrating the legacy and heritage of Benjamin Banneker who completed construction of the first wooden clock built entirely in America from pieces he carved by hand in 1753. A portion of the proceeds from the sale of all Banneker Watches and Clocks will go towards the launch of the Chicago Project in an effort to establish a manufacturing presence in Chicago.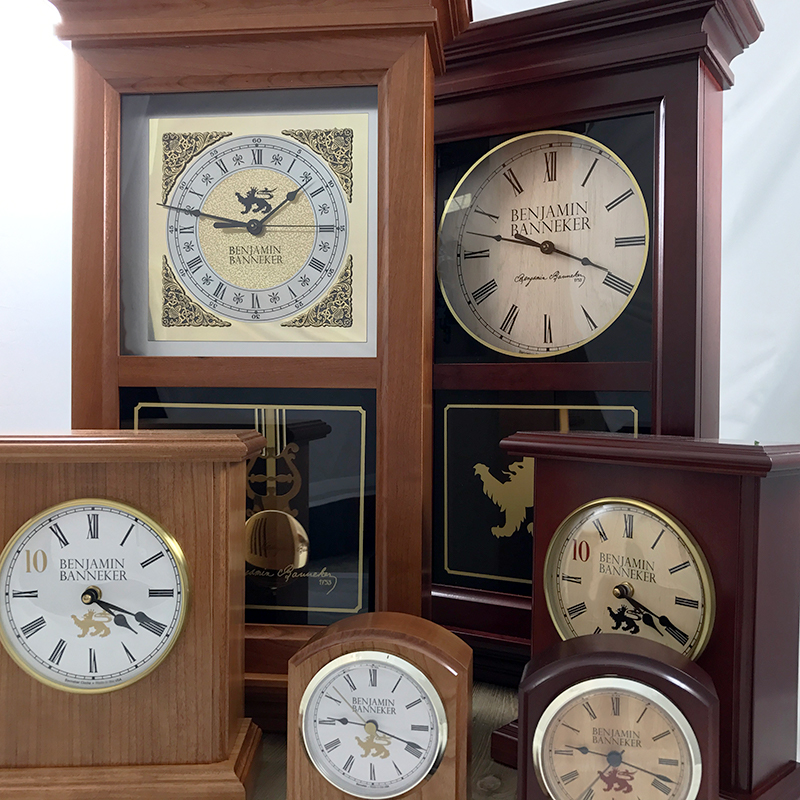 Desk Clocks, Mantel Clocks, Wall Clocks, and Chiming Clocks - 3 New Styles and 8 New Models of Benjamin Banneker Clocks that are all constructed from American Black Cherry Wood. Handcrafted and finished by one of America's most established Clockmakers, each timepiece is carefully packed for delivery with pride and is designed to provide you with many years of precision timekeeping while inspiring awe and provoking conversation about the history of Benjamin Banneker.
The 3500 BC is our new Solid Cherry Wood Desk Clock and makes a perfect graduation gift or new employment gift. Available in either Burgundy (dark) or Autumn (light)
The Hardaway Series of Mantel / Desk Clocks are built in a classic style and showcase the beautiful wood and fine craftsmanship that only years of experience can provide. Available in both Silent and Chiming versions this is one amazing timepiece.
The Ellicott is a new Series of Benjamin Banneker Wall Clocks designed to become a part of your home or workplace. More than 10lbs of American Cherry Wood and Elegant construction on par with the finest furniture made in the USA. Benjamin Banneker Replica Signature, Solid Brass Pendulum and a Chiming Movement that replicates classic Grandfather Clocks add a touch of elegance wherever it is proudly displayed
Our Goal is to for all Benjamin Banneker clocks to be Made in the USA as part of the Chicago Project but from time to time, as needed, our vendors will outsource the manufacturing of certain components that are not available in the US. We receive no notification and have absolutely no control over this activity. For example, to our knowledge, there are currently no American manufacturers making chiming movements for clocks. Silent movements yes, but Chiming movements no. It is our goal to change this in the future and to manufacture a chiming Benjamin Banneker clock movement here in the USA (if nobody else is going to do it then we should) but that is going to take some time and a lot of financial investment to develop and produce. Until then we are constantly searching for suppliers who build every component we need in the USA. So while we can't say every Banneker Clock is 100% made in the USA yet, we can say that we will keep working tirelessly until we achieve our goal and figure out a way that they can be.
Benjamin Banneker Clocks are constructed from American Wood, Designed, Assembled, and Handcrafted with Love right here in the United States using as many US made components as possible. We are proud to carry on the name and tradition of America's Original Clockmaker - Benjamin Banneker | 1753